Rescheduled Concert Dates

We are delighted to announce that both of the March 2020 concerts have now been rescheduled. James Grant, Diesel Park West and the Heeby Jeeby's will perform on Friday 19 March 2021. China Crisis and the Christians will perform on Saturday 20 March 2021.
All tickets already purchased are VALID for the rescheduled concert dates. Patrons wishing to buy new tickets can do so NOW at our website shop and through the Tickets Scotland website from Monday 20 April. PLEASE note that our other sales outlets cannot be visited at the present time due to the Covid-19 situation and we will advise in due course when this changes.
---
---
Darvel Class Acts


Rolling back the years!

Although we look forward to our new musical beginnings it is good to look back with satisfaction over the past 18 years of the Darvel Music Festival. Launched in 2002 by our friend and fellow music lover Lynn Brown, the festival eventually featured over 300 acts and most musical genres, including;

Paul Carrack, Eric Bibb, Love and Money, Hue and Cry, Richmond Fontaine, Hamish Stuart, Glenn Tilbrook, Larry Carlton, Big Dish, The Silencers, Martin Taylor, The La Fontaines, Justin Currie, James Grant, Nigel Clark, Phil Cunningham, Aly Bain, Capercaillie, Skerryvore, Ruby Turner, Maggie Bell, Eddi Reader, JJ Gilmour, Roddy Hart, Karine Polwart, Gary Louris, Mark Olsen, Larry McCray Band, The Phantom Band, Koshka, Hamilton Loomis, Endrick Brothers, Iain Morrison, King King, The Blues Band, Steve Ferrone, Molly Duncan, Kokomo, Peatbog Faeries, The Mull Historical Society, The Coal Porters and many more….

Photo Accreditations: Nathan B Photography, Jim Stevenson Photography, Stuart Robertson and Jay Mansfield
Darvel Reviews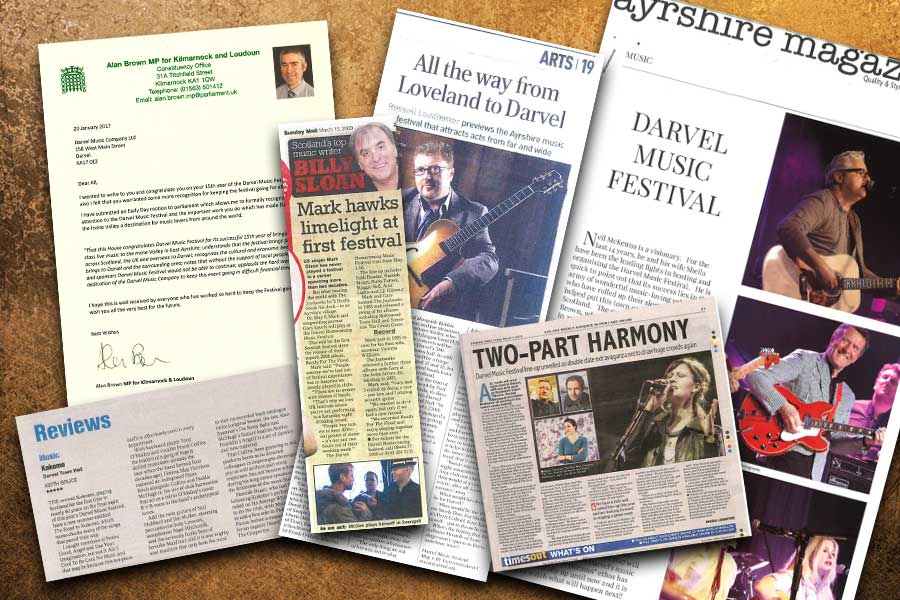 Let's take a look back over the years at the headlines we've made and the artists we've had the pleasure of hosting.
> 18th March 2018 - Darvel Bowling Club - The Bandits and The Colin Kennedy Band Review - Click to View
> 25th Aug 2018 - Hamilton Loomis, Mike Vernon & The Mighty Combo, Lights Out By Nine - Click to View