Hamilton Loomis, Mike Vernon & The Mighty Combo, Lights Out By Nine
Town Hall, Darvel, 25th August 2018
Scottish band Lights Out By Nine made a welcome return to Darvel (they supported renowned British singer songwriter Paul Carrack at the Darvel Music Festival in 2015) to open a night of Lights Out soul funk, throwback blues swing from Mike Vernon & The Mighty Combo and the modern soul-pop & funk-rock blues of the highly engaging Hamilton Loomis.
Lights Out By Nine, who have been delivering their brand of soul funk for thirty years (mixing all original material with a smattering of choice covers) are, at full complement, an eight piece outfit but at Darvel were a man down.
Trombonist Paul Haddow was unfortunately missing in action but fellow horn blowers John Beresford and George Morrison helped make up for his omission by shakin' their brass (the funky, up-tempo 'Workin' On It' was one of many songs to feature tenor sax man Morrison blowin' free)
While Average White Band comparisons are often made, and valid (Lights Out By Nine have also performed with ex AWB alumni Hamish Stuart) the band carry a distinctly New Orleans sound while also incorporating a little jazz and blues.
The latter trait is emphasised by singer John Frame's Joe Cocker styled vocal (but without the vocal or physical animations), which added bluesy shade to the soul funk colours on display.
The band's latest release, the EP Here And Now (Part One), was featured through songs such as the cool and funky 'Take It Or Leave It' and the New Orleans devil's jazz of 'Laughing on the Other Side;' a taster of what is to come on Part Two was previewed via the keyboard driven and pacey 'Mr. Brown.'
Cover highlights included a smooth-soul take on Al Green's 'Love and Happiness' (a number the band previously performed with Hamish Stuart), the Hayes-Porter penned 'Wrap it Up' and fully funked up set closer' 'Diggin' on James Brown,' a Tower of Power classic that does exactly what it says on the title.
The sax appeal continued with a fabulously foot-tapping, body-swaying and feel-good factored set from Mike Vernon & The Mighty Combo.
Mike Vernon may still be best known for his noted production work (particularly his successful collaborations with the likes of Fleetwood Mac, Ten Years After and, most memorably, The Bluesbreakers and Eric Clapton), but having come out of retirement in recent years to produce a handful of albums he has stepped away from production to concentrate on his love and passion for 40s and 50s R&B swing blues.
Ably assisted by a cracking band featuring Mike Hellier (drums), Ian Jennings (upright bass), Paul Tasker (saxophone), Matt Little (keyboards) and new 'kid' on the swing block, Spanish guitarist Kid Carlos Moreno, Mike Vernon & The Mighty Combo enthralled a seated but no less animated Darvel audience (of which a number were up and dancing toward set end) with a collection of good-time tunes from debut album Beyond the Blue Horizon, as well as a number of covers that are close to Mike Vernon's blues swinging heart.
A jump-joint styled instrumental opening culminated in the introduction of Mike Vernon, resplendent in his amazing technicolour swing coat, approaching the microphone to deliver the band's statement of intent, 'We're Gonna Rock the Joint.'
The swing of songs such as '...Rock the Joint' underlines just how good an old-time styled songwriter Mike Vernon is, tapping in to the sound of artists such as Fats Domino, Louis Jordan and Clarence "Frogman" Henry to deliver new songs with true homage credentials – to the extent that you'd be forgiven for going to check what artist first performed a particular song only to find it's a Vernon original (the foot-tapping brace of 'I Can Fix It' and the call and answer fun of 'Be On That Train' being two R&B swing blues cases in point).
But it wouldn't be a Mighty Combo show without some of those old-time swing classics.
Leiber and Stoller's famous R&B number 'Kansas City,' the aforementioned Frogman Henry's R&B swing-pop classic '(I Don't Know Why I Love You) But I Do' and Brook Benton's 'Kiddio' all got an airing featured before the band signed off and shook, rattled and rolled out swingin' with the appropriately titled 'Hate To Leave (Hate to Say Goodbye).'
With the rhythm and groove set by Mike Hellier and Ian Jennings, the piano sprinkles of Matt Little, some serious sax appeal from Paul Tasker and Kid Carlos' six-string rhythms and rock 'n' roll leads backing the baritone blues swing voice of Mike Vernon, The Mighty Combo are a mighty fine, fun-time throwback to a very different era.
Texas singer-guitarist-songwriter Hamilton Loomis has played Darvel so many times (including a headline show last year as part of his 2017 UK tour), and loves playing the Ayrshire town so much, he should be given keys to the place.
Part of the attraction to Hamilton Loomis live, and why he is a true must-see act, is his performances are as engaging and infectious as the songs he plays, evident from the get go with an opening instrumentals that was as fun as it was clever, incorporating a number of classic pop and rock melodies or riffs (from 'Careless Whisper' to 'Smoke On the Water') delivered by Loomis and his right-hand horn man, award winning saxophonist Fabian Hernandez.
This particular Hamilton Loomis Band – who also feature Houston bassist Mike Meade and, joining them for this UK tour and a selection of European dates, British drummer Will Morris – had only been together two days and were at the top of the tour; they could therefore be forgiven for any rough edges.
But the fact of the performance matter was such issues were few and far between – and on the night it was more about the rock edge employed than the rough edges being ironed out.
Following numbers, the melodic shuffle 'Candles and Wine' and the big-beat funk rock of 'Sugar Baby' (both from Hamilton Loomis' latest album Basics) are weighty enough cuts on the album but live they absolutely rocked.
The former grooved as much as it shuffled while 'Sugar Baby,' powered by Will Morris' big drum sound, rocked the funk out of itself.
Given the strength of Basics it was no surprise songs from that album featured heavily (the highly infectious can't-not-move-your-feet 'Funky Little Brother' and the cool 'n' chunky 'Ain't What it Ain't' were further Basicshighlights) but, as with any Hamilton Loomis set, a couple of well-chosen covers and a handful of live staples were also were also part of the musical mix – back catalogue favourites included the funky rockin' groove of 'Stuck in a Rut' and Hamilton Loomis' signature song, 'Bow Wow.'
At its core 'Bow Wow' is little more than a big bluesy riff, a big beat and "Bow Wow!" chorus, but live the song extends and goes walk-a-bout. Or rather Hamilton Loomis does.
For the concluding half of the number Loomis left the stage to embark on an across table and chairs walk through the audience, feet never touching the ground, until reaching the bar at the back of the hall where he stood astride the bar counter, delivering line after line of tasty blues leads and solid rock licks while the band kept it rhythmically tight on the stage.
Hamilton Loomis finished his instrumental wandering by firing off a famous lead line riff – Eddie Van Halen is a particular go-to favourite and was no exception at Darvel, the guitarist and band thundering to a 'Hot For Teacher' / "Hot for Bow Wow!" finish.
Covers this time around were a superb, soul-blues rendition of Prince's 'I Would Die 4 U' (which included a crying solo the man who used to have a purple reign over pop would have been proud to call his own) and a sing-a-long interjection of 'Chain of Fools' (set within the aforementioned 'Stuck in a Rut') in homage to the recently passed and truly iconic vocal legend, Aretha Franklin.
And how fitting that Darvel witnessed a tribute to the Queen of Soul by the King of ultra-fun, high-energy funk and blues rock.
Ross Muir
FabricationsHQ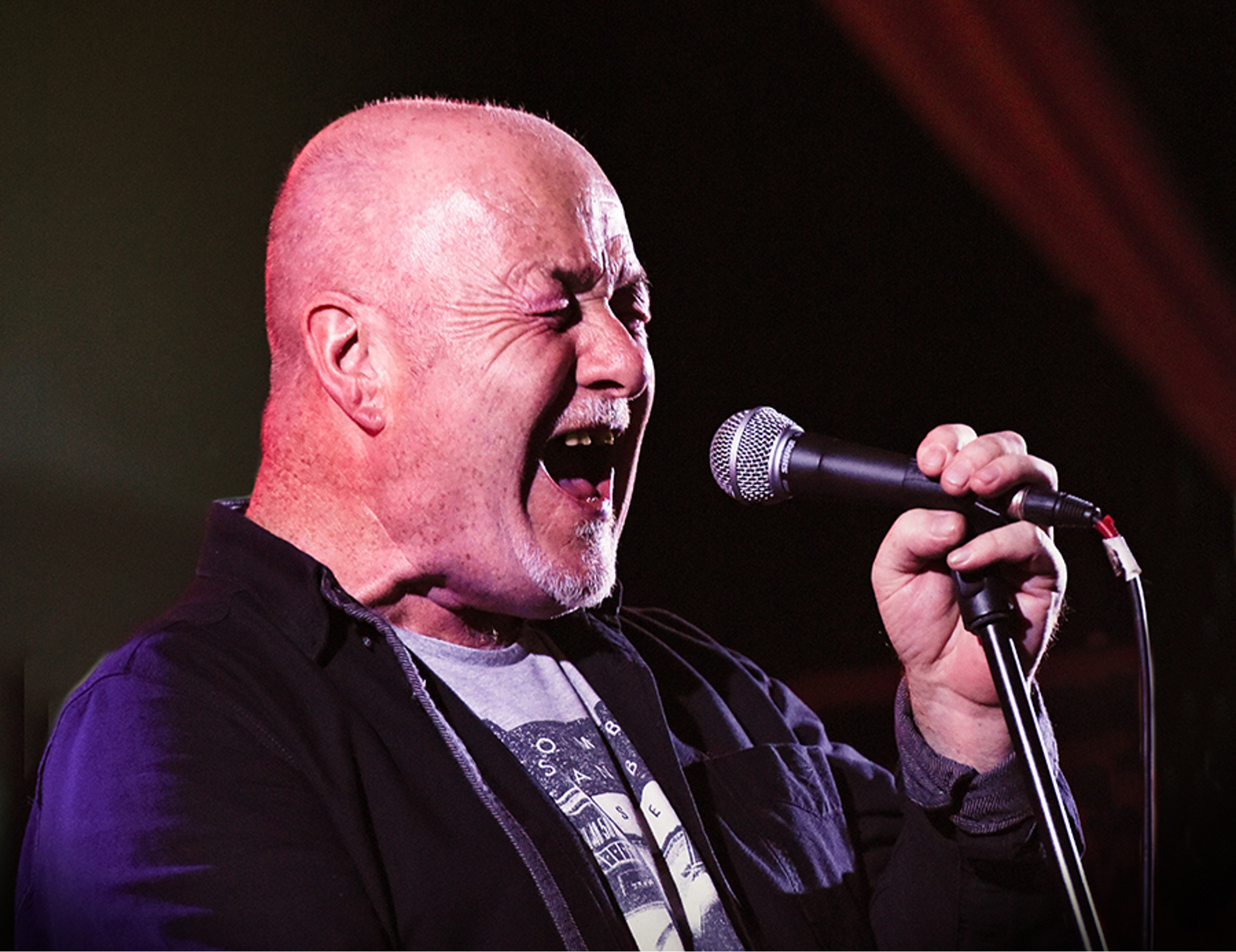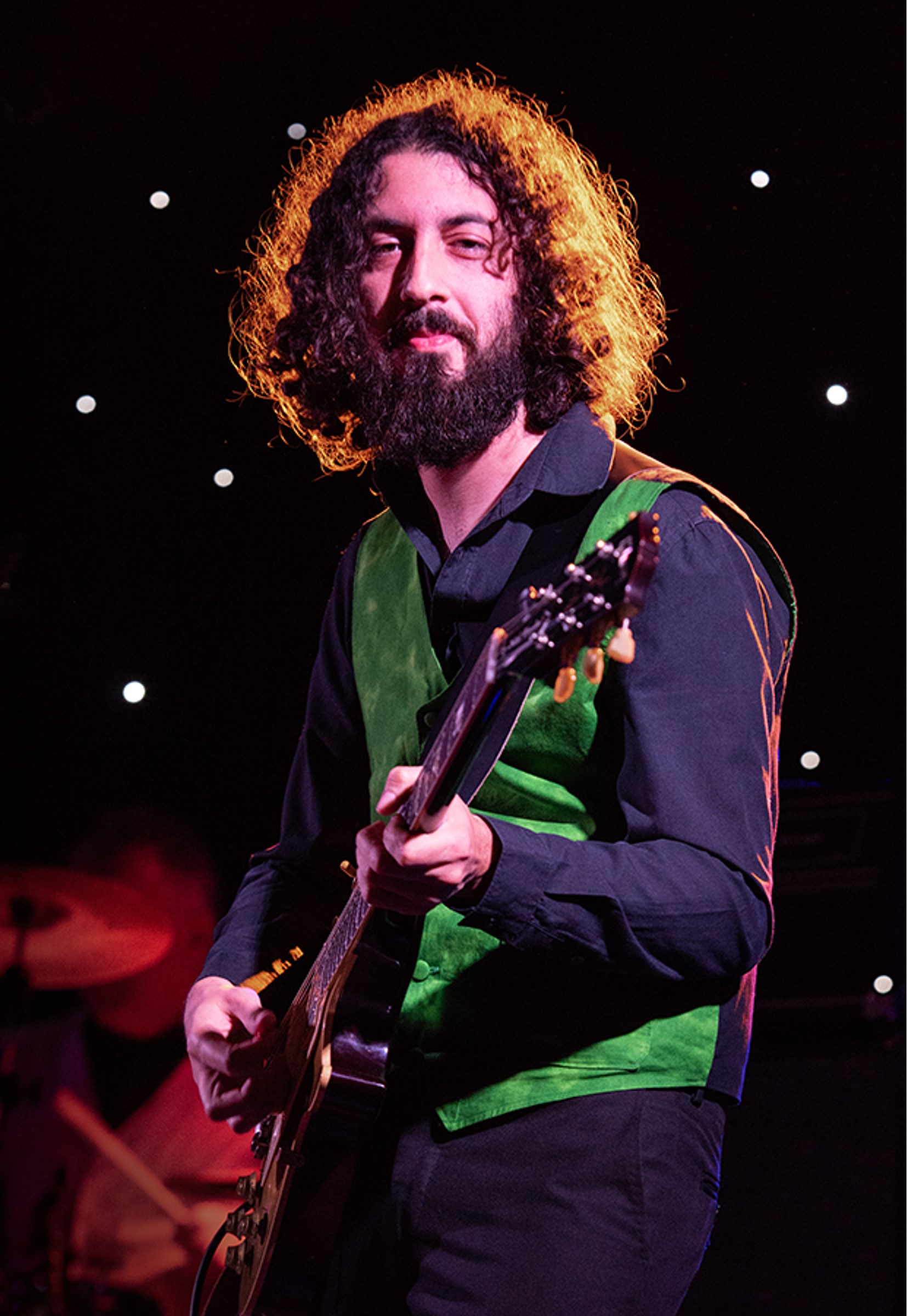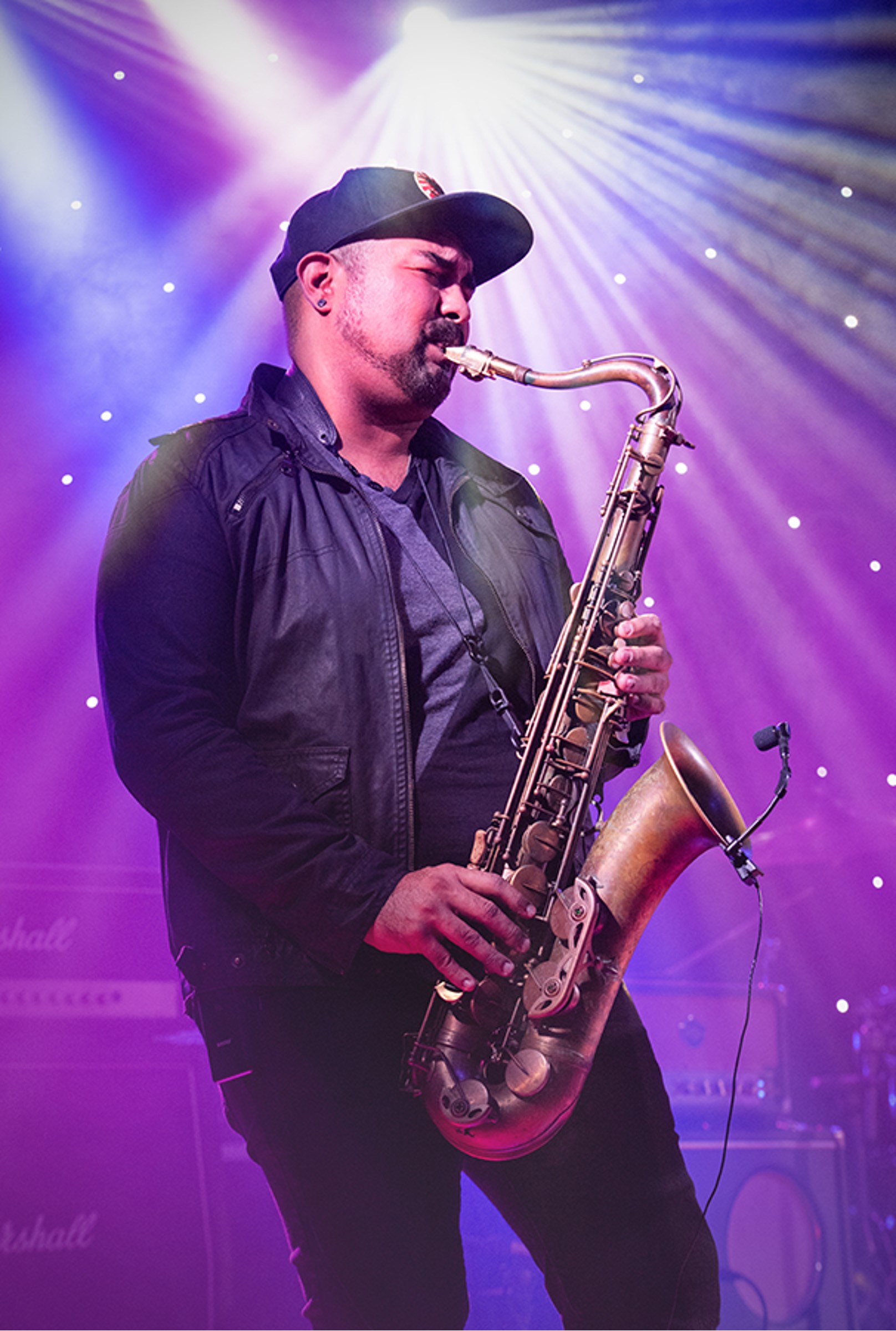 Photos courtesy of Jim Stevenson Photography