Darvel Class Acts


Rolling back the years!

Although we look forward to our new musical beginnings from 2017 onwards it is good to look back with satisfaction over the past 15 years of the Darvel Music Festival. Launched in 2002 by our friend and fellow music lover Lynn Brown, the festival eventually featured over 260 acts and most musical genres, including;

Paul Carrack, Eric Bibb, Love and Money, Hue and Cry, Richmond Fontaine, Hamish Stuart, Glenn Tilbrook, Larry Carlton, Big Dish, The Silencers, Martin Taylor, The La Fontaines, Justin Currie, James Grant, Nigel Clark, Phil Cunningham, Aly Bain, Capercaillie, Skerryvore, Ruby Turner, Maggie Bell, Eddi Reader, JJ Gilmour, Roddy Hart, Karine Polwart, Gary Louris, Mark Olsen, Larry McCray Band, The Phantom Band, Koshka, Hamilton Loomis, Endrick Brothers, Iain Morrison, King King, The Blues Band, Steve Ferrone, Molly Duncan, Kokomo, Peatbog Faeries, The Mull Historical Society, The Coal Porters and many more….

Photo Accreditations: Nathan B Photography, Jim Stevenson Photography, Stuart Robertson and Jay Mansfield
Darvel Memoirs
Let's take a look back over the years at the headlines we've made and the artists we've had the pleasure of hosting.
Music Town, Funky Town
King King (with Main Street Blues and The Railwaymen)
Darvel Town Hall, Saturday 21st April 2018.

Fair to say King King's return to Darvel was worth the wait (the then up and coming band played what was the Darvel Music Festival in 2013 and had to cancel a highly anticipated return to the Irvine Valley's Music Town in 2017).

A couple of hours before King King were applauded on to the Darvel Town Hall stage local act The Railwaymen were rightly, and loudly, applauded for their forty-minute set of melodic country-shaded rock (the quartet also deserved that applause for jumping in to replace Edinburgh heavy soul rock outfit The Rising Souls at the eleventh hour).
David Paterson's opening remarks that they were not a perfect musical fit for the blues rock proceedings that would follow were accurate in broad terms but The Railwaymen's melodic and country-tinged performance was also rock enough to roll with the other bands.
The end result was a set that dovetailed nicely with what was to follow, from the suitably rhythmic 'Heartbeat' and the boisterous, fist pumping 'The Liars' to 'The King' (a highly effective rock ballad styled number) and on to set closer, the Nashville meets melodic pop of 'Bridges.'
Edinburgh based Main Street Blues, fronted by singer-guitarist Derek Smith, are an up-tempo blues band injected with a healthy dose of R&B; they are also one of the best blues based acts to emerge from the East of Scotland in recent years, something that was reinforced this particular night in the south west of the country.
Around half of Main Street Blues set was built around latest album, the rather tasty Bluest Blue.
While songs such as the Derek Smith penned 'Dusty Road' and Coco Montoya's 'Last Dirty Deal' showcased the band's mid-tempo blues rock and cool melodic blues credentials respectively, any question of whether they could also cut the slow or more traditional blues was answered with a striking version of the oft-times covered 'Tin Pan Alley.'
The latter highlighted just how good a player Derek Smith is while the latest album's title track, a cracking version of Alvin Lee's classic Bluest Blue, featured some perfectly weighted piano runs and remarks from keyboardist Iain Hanna.

Another song lifted from the current album, a melodic blues reinterpretation of Willie Dixon's 'Same Thing' (this time featuring some cool organ vibes from Iain Hanna) was the pick of the Bluest Blue bunch and a highlight of a well-received set from one seriously tight and tidy band.

It's got to the stage where King King need absolutely no introduction, although the introductory tape of AC/DC's 'Highway to Hell' helped reinforce and underline that the band have been incorporating a classic, crunchy rock element into their music of late, as featured on current album Exile & Grace and the opening number of both set and album, '(She Don't) Gimme No Lovin.'

Alan Nimmo, back to full and stronger voice since his throat issues of last year (leading to a number of 2017 gig cancellations including Darvel) , was in fine vocal and six-string form throughout.
The powerful 'Broken,' where Alan Nimmo, over some fabulous Hammond swirls from Jonny Dyke, sings the blues for the state of the world was as impassioned vocal case in point while his guitar work crackled with energy on the up-tempo and rockin' 'Lose Control' and positively shone on the band's stand-out blues rock ballad, 'Long History of Love,' another that featured some great Hammond remarks from Dyke.

New boy Jonny Dyke has, in a relatively short time, made the King King keyboard seat his own with a throaty Hammond sound that sits close to maximum in his set-up (but not enough to turn that throaty swell to an overblown or distorted growl) and liberal use of his electric piano, which gave many of the numbers a brighter punctuation.

And if the keyboardist got any funkier on 'All Your Life' (Stevie Wonder should be smacking his palm to his forehead for not coming up with this one first) young Mr Dyke would probably have had to take his instruments the Musical A&E Department to have their groove thang replaced.

On the subject of groove King King carry so much of it (and some serious rhythmic sway and swagger) courtesy of the redoubtable talents of bassist Lindsay Coulson and groove drummer Wayne Proctor; collectively the pair also give the songs room to breathe and space for Messrs Nimmo and Dyke to play in.

Additionally, tuning in to Wayne Proctor's rhythmic shifts (such as when he supports Alan Nimmo's building guitar work on the finale of the band's show stopping, show ending and showcase number 'Stranger To Love,' is almost worth the admission fee on its own.

With an encore of sing-a-long number 'Let Love In' the packed Darvel Town Hall audience went home happy, having witnessed three great sets including an exemplary performance from a band at the top of their game and unarguably the league leaders in British blues rock.

King King of the road (to Darvel), baby.

Ross Muir
www.FabricationsHQ.com

King King set-list:
Intro Tape (Highway To Hell); (She Don't) Gimme No Lovin'; Waking Up; You Stopped The Rain; Broken; Long History of Love; Lose Control; Rush Hour; Long Time Running; All Your Life; Stranger to Love; Let Love In.
Review courtesy of Ross Muir – Fabrications HQ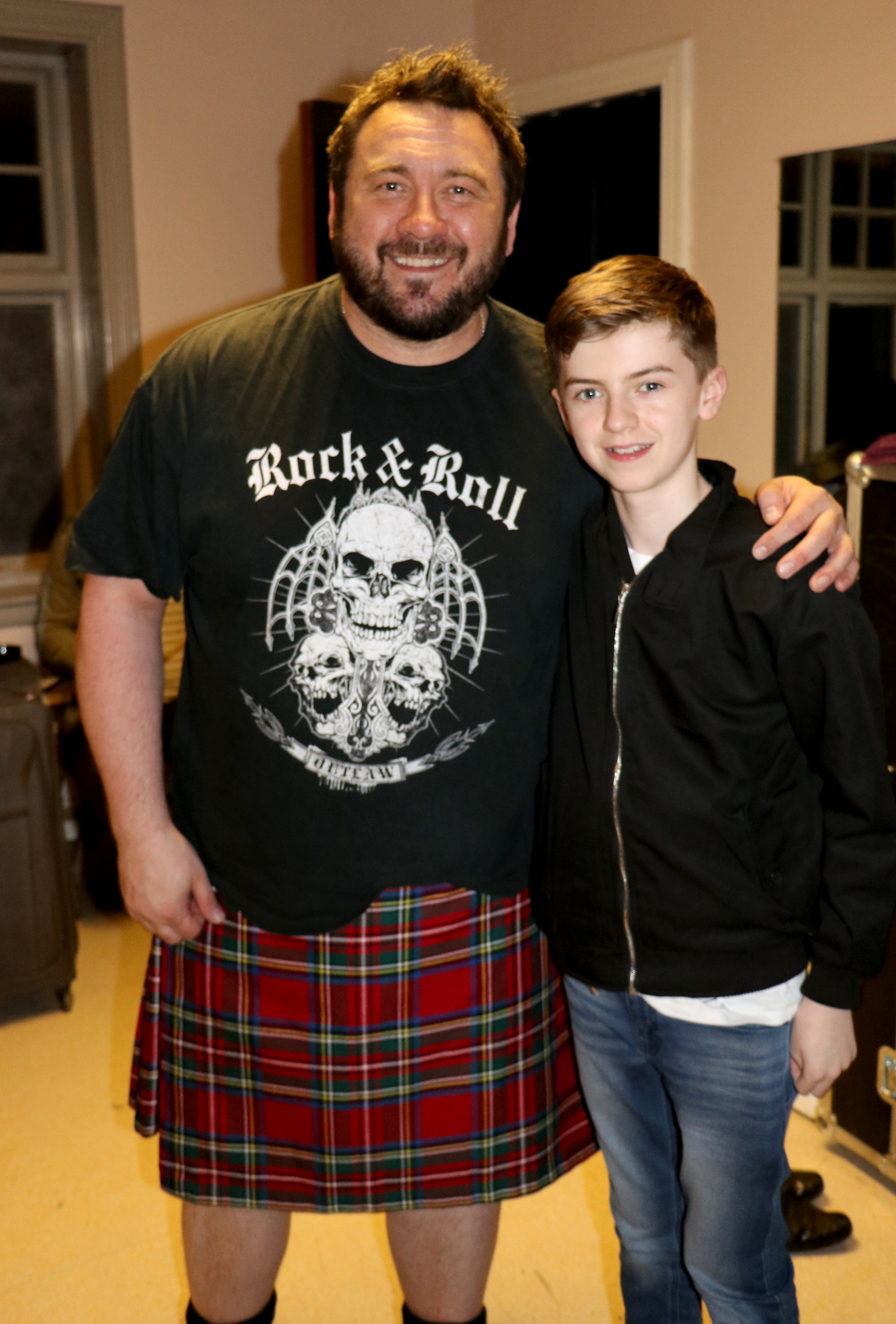 Young Owen was delighted to meet one of his heroes and the young guitarist loves rock and blues....the next generation!