Westsound Radio...
'The Toast of Ayrshire Award Winners 2011'
As of 14th November there are only 6 tickets left for Skerryvore on 30 November at Flipside Vinyl ONLY.
Doors open for this concert at 7.30pm and there will be very limited seating downstairs at the venue for elderly/infirm/less able-bodied patrons. The balcony area is fully seated and can accommodate 50 patrons.
Darvel Music Company's 2018 concert series comes to a rousing finale over St Andrew's weekend. The organisers all of whom are volunteers, have worked tirelessly to keep the spirit of the annual music festival alive, with top quality international and national performers throughout the year at the town hall. They pride themselves in attracting musicians from a wide range of musical genres and over the past seventeen years more than three hundred acts have appeared.
Twice winners of Scotland's Traditional Music 'Live Act of the Year' Award (2016 &2011), Skerryvore have been on a meteoric journey that has taken them from the remote Isle of Tiree on to international tours that have included performances in Central Park NYC, The Ryder Cup in Louisville, Kentucky, the Shanghai Expo, China and of course DARVEL, Ayrshire, Scotland!
Skerryvore have created a unique fusion of folk, trad, rock and Americana since forming in 2005. The band have graced the stage at Darvel on numerous occasions over the years and their annual performance in the town around St Andrew's Day is always eagerly anticipated by hundreds of their fans. This year will be no exception and expect familiar favourites as well as new tracks from their critically acclaimed new album, 'EVO' on the 30th of November.
Fans are also encouraged to go to 'Oban Live', a superb festival run by the band each June which has featured many internationally acclaimed artists such as KT Tunstall, Capercaillie, Julie Fowlis, Tidelines, Blazin' Fiddles, Sharon Shannon and many more.
Skerryvore will be joined on the Darvel billing by the wonderfully talented Gentlemen of Few. Recent BBC Radio 2 Folk Award Finalists, Gentlemen of Few, play an eclectic blend of indie-folk and classic rock with skilful vocal harmonies and powerful lyrics perform their music with a raw passion and intense energy hardly to be believed, giving them an almighty sound that they've coined as "Nugrass".
The band has seven years' of experience performing their shows to a plethora of welcoming audiences and dedicated fans across the UK in rooms and halls of both homeliness and esteem. The O2 Academy, Islington, The Royal Albert Hall, London and The Forum, Tunbridge Wells to name a few. The boys have found themselves at Tiree Music Festival; Secret Garden Party, Cambridgeshire; Boomtown Fair, Hampton and even supporting the likes of The Blockheads, The Beat and Hayseed Dixie.
Following on from this great show, the organisers bring music fans a real 'Christmas cracker' to kick-start the festive season on Saturday 1 December. The concert will feature three of the best tribute bands on the music scene. First up there will be 8 piece strong Skaledonia who will have the whole hall jumping with homage to the ska, reggae and roots-rock scene; Specials, Madness, Selector, Clash et al. The spirit of Manchester favourites Oasis is up next and Noasis will conjure up the look, feel and sound of this legendary UK band. Headliners Dirty Harry (Blondie), sensationally recreate the 70's and 80's hits of the iconic NYC band. They have appeared at major festivals across Scotland including Rewind, Belladrum and Edinburgh so don't miss your chance to see and hear them in the intimate setting of Darvel Town Hall with their fabulous support acts!
Tickets are now on sale and cost £20 for the 30 November concert and £12.50 for the 1 December gig. They can be purchased at Thistle du Florists in Darvel; Flipside Vinyl and new outlet Sinforiani Brothers in Kilmarnock plus Tickets Scotland, Glasgow (for Skerryvore only) and at the festival shop, www.darvelmusiccompany/shop
Music Company Director, Sheila McKenna said, "We have had a great year of music both at the town hall and at the local bowling club and are indebted to all of the bands who have performed. On behalf of the committee I would like to thank all of our business patrons, grant providers and advertisers, especially, Tesco Bags of Help, East Ayrshire Council and Scot-Mid Cooperative for providing financial assistance towards our annual St Andrews Weekend event".
The other shows in 2018 were sponsored by West Siphonics Limited, Loudoun Valley Trust, MacTaggart and Mickel Building Communities Fund and Yorkshire Building Society, Grassroots Giving.
Details of how music patrons can get involved in supporting us by joining the Darvel Music Company '100' club and ways businesses and companies can co-produce 2019 shows through sponsorship and advertising opportunities can be found at www.darvelmusiccompany.com

Friday 30th November & Saturday 1st December 2018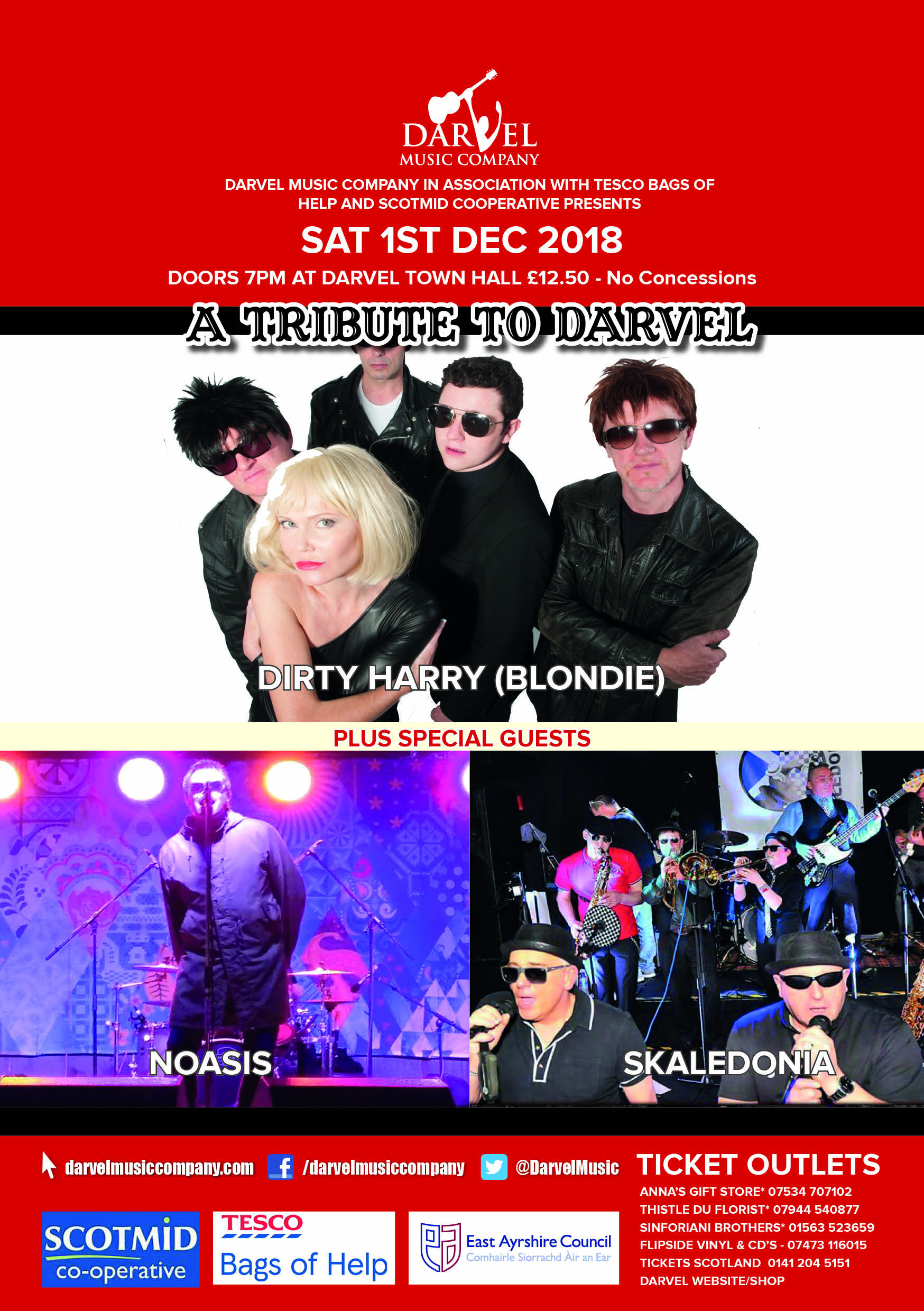 Our annual Burns Supper Fundraiser will take place on 19 January 2019 at Darvel's Masonic Hall - tickets available from week beginning 12 November.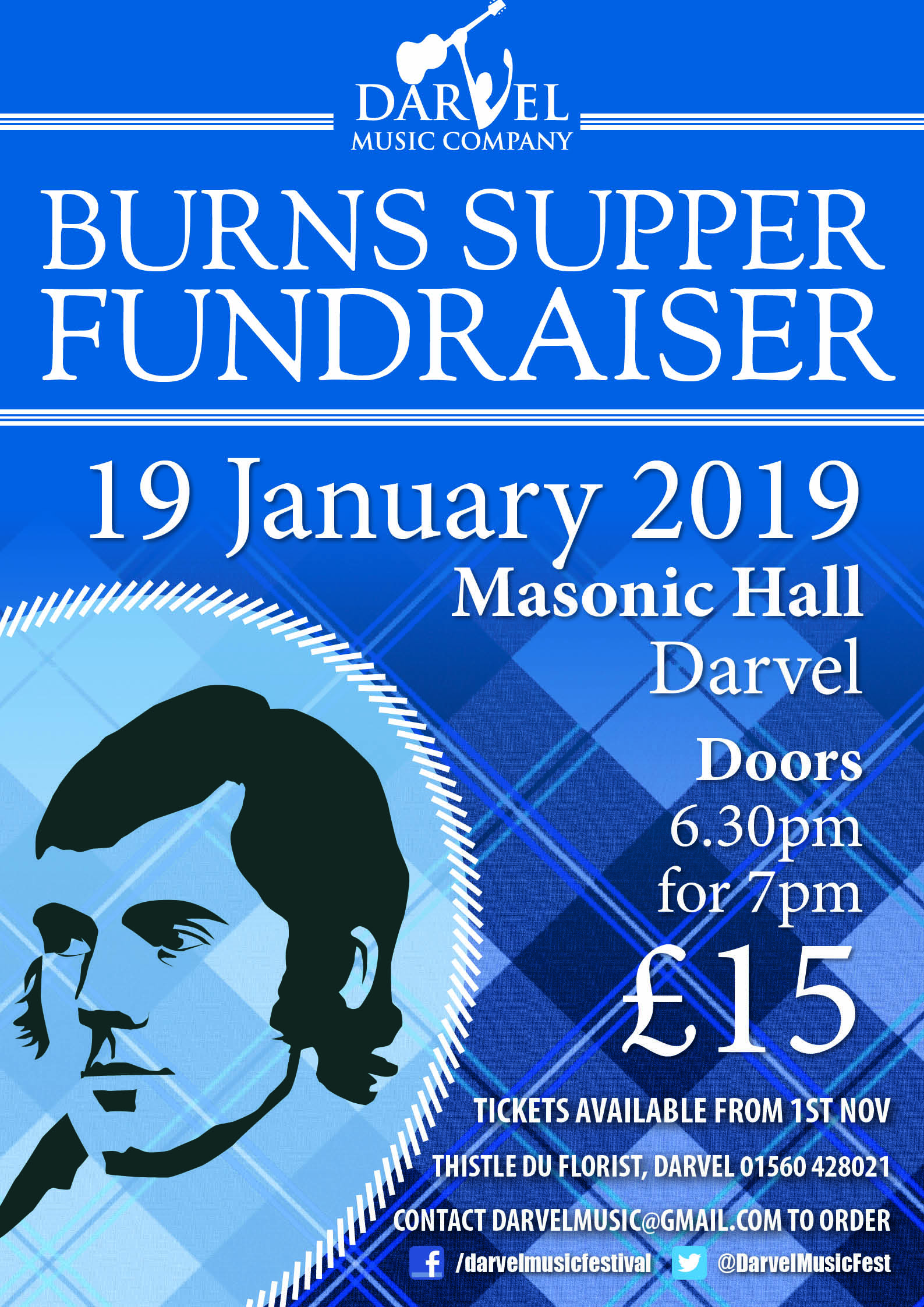 Welcome to the Darvel Music Company
The Darvel Music Company was formed to promote music culture, music development and 'live' musical performance within Darvel and other communities within East Ayrshire.
The inaugural meeting was held on 30 April 2008 and took over the organising and running of the prestigious Darvel Music Festival. The company is not for profit and is run by music loving volunteers - no-one gets paid! "Our new committee members all have a passion for music and are experienced in event management, marketing and public relations". We have also formed strong partnerships with innovative arts and cultural groups across East Ayrshire.
The Darvel Music Company relies on grants, sponsorship and fund raising events to finance our great range of musical initiatives. If you are in a position to help with either a donation or business services free of charge so that we keep music 'live' in Darvel then please contact us at darvelmusic@gmail.com
In return we will add your logo and/or advert to our website and feature you on our new Facebook page and on large screens during each concert.
The Darvel 100 Club
Please consider joining the 'FRIENDS OF DARVEL' 100 CLUB today
We are hoping that 100 music friends will either provide us with a single donation of £60+ * (please go to our shop) or consider a monthly standing order (please see below), of £5 (or multiples thereof) ** to support us in our continued efforts to bring great acts to Darvel over the next few years.
REWARDS FOR FRIENDS
*Any one-off donation of £60+ will entitle Friends of Darvel to 1 FREE concert ticket immediately.
**After 12 monthly standing order payments are received, Friends of Darvel will be entitled to 1 FREE ticket to a show of their choice.

MONTHLY BUSINESS SPONSORSHIP SCHEME
Any one-off donation of £250+ or monthly payment of £20+ will entitle you to a FREE advert on our website and at our concerts. You will also be entitled to a FREE pair of tickets for a show of your choice if we receive an immediate one-off payment (please go to shop) or after 12 monthly payments (please see below).
MONTHLY STANDING ORDER INFORMATION FOR 'FRIENDS OF DARVEL' AND PROSPECTIVE SPONSORS/ADVERTISERS:
DARVEL MUSIC COMPANY, ROYAL BANK OF SCOTLAND
SORT CODE: 83-26-32 | ACCOUNT NUMBER - 00154626